The Finest of Manama Hotels
5-Star Bahrain Luxury Accommodation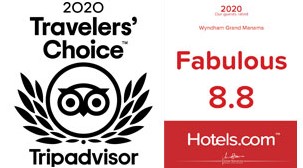 Book Direct Now with "WGM Advantage" for discounted rates + breakfast for 2.
For an unforgettable stay, The Wyndham Grand Manama combines unique design with the best in modern comforts and facilities. 19 floors are dedicated to luxury accommodation, providing chic, inviting hotel rooms and suites with everything the guest could wish for.
The spiral "vertical city" of The Wyndham Grand Manama is so much more than merely one of the best places to stay in Manama, however. For guests who wish to keep fit or enjoy some leisure time, there are two temperature controlled swimming pools, and indoor and outdoor play areas for children. Separate men's and women's health clubs provide state of the art gym and sports equipment. Our facilities page has more details.
Of course, besides holidays and business stays, we can also provide for the big occasion with exceptional event hosting in Bahrain. For corporate and professional gatherings, the hotel contains a range of well-equipped meeting rooms and conference facilities. Or for sparkling celebrations, weddings and all large events, we have the beautiful Bateel Ballroom.

Superb rooms and suites
Discover modern luxury with the best of traditional Bahrain hospitality at the Wyndham Grand Manama. Whether you travel for leisure or business purposes, we offer some of the finest accommodation in the city. Breathtaking views, excellent service and a wide range of facilities are assured.
Weddings and Events
From stylish weddings to business conferences, the Wyndham Grand Manama is the ideal setting to host your event. Whether you wish to hold a private board meeting or a large family celebration, we offer bespoke service and excellent facilities.
A Sensational Spa
For a wide range of soothing treatments, our Spa provides the ultimate in body therapy. Join us for complete relaxation and feel rejuvenated. The spa is currently closed due to goverment restrictions.
Dining in style
A world of excellent food and drink awaits the guest at Wyndham Grand Manama. Join us for breakfast, lunch or supper with an amazing choice of restaurants and cuisine to satisfy every taste.